Back from the trip! Was a great shake-down cruise to test out the car, here are some takeaways:
With minor hills, got about 11 MPG towing a 4,000 lb trailer
Self-leveling is nice, but was still sagging and bringing the headlights up higher than normal at night. There was very little sway on the trailer, but I'm going to get an Anderson 3380 weight distribution/sway control hitch for my particular trailer setup. Being only 60 lbs, our Palisades don't need any more tongue weight than it already has. I feel that once I get it on it will be even more stable and handle better.
RPM's were in the 1,800 - 3K range. 6% grades @ 65 MPH would occasionally put it up to 3,500 RPM.
Once the self-leveling kicked in after 3-5 miles the ride was very smooth. I was renting trucks before, and the biggest surprise was the turning radius! This was way better than a Ram 1500 or Ford F250 that I rented.
Overall, I would get the weight distribution going to ensure a safer ride, but overall VERY HAPPY towing with the palisade. The P3 brake controller worked like a champ, two teenagers were happy with their captains chairs, and even had a cooler in the back of the 3rd row.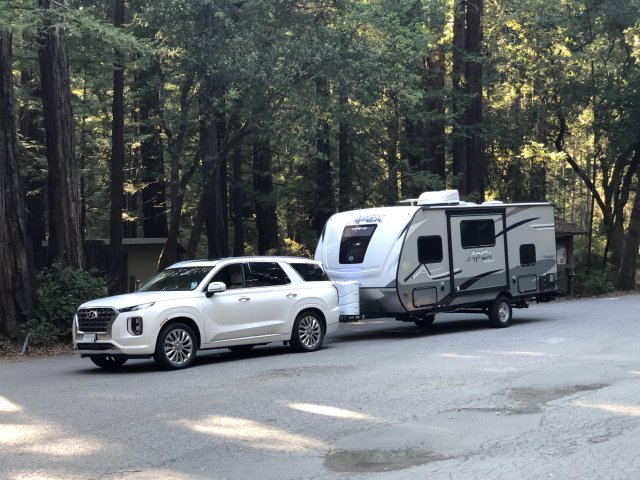 6